On March 10, 2023, PERSON_1, while in the position of Deputy General Director of the State Enterprise "National Opera and Ballet Theater of Ukraine named after T.G. Shevchenko" at the address: Kyiv, Lysenka St., building 5, un
Guilt of PERSON_1 in committing the offense provided for in Part 5 of Art. 212-3 of the Code of Criminal Procedure is confirmed by the evidence available in the case: the protocol on the administrative offense of the CC series No. 00255 dated 05/
At the court session, the victim PERSON_2 did not appear, provided the court with an explanation of the substance of the administrative offense protocol, and asked the court to bring PERSON_3 to the legal responsibility.
Accordingly, according to Part 2 of Art. 24 of the Law "On Advocacy and Advocacy", the heads of enterprises and organizations to which a lawyer's request has been sent are obliged to provide the lawyer with relevant in
The guilt of the head of the Krasnopil village council of the Gaisyn district of the Vinnytsia region, Romanenko K.M., is confirmed by the fully investigated materials of the case, in particular those indicated above.
In accordance with Part 3 of Art. 24 of the Law of Ukraine "On Advocacy and Advocacy" – refusal to provide information at a lawyer's request, untimely or incomplete provision of information, provision of information th
According to Part 2 of Art. 24 of the Law "On Advocacy and Advocacy", heads of enterprises, institutions, organizations to which a lawyer's request has been sent are obliged to provide the lawyer with information no la
The judge of the Brovar city and district court of the Kyiv region Grydasova A.M. considered the materials received from the Bar Council of the Kyiv region regarding the administrative liability of the chairman of the board of the servicing garag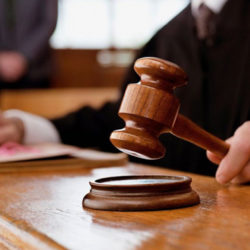 Article 251 of the Code of Administrative Offenses stipulates that any factual data, on the basis of which the body (official) establishes the presence or absence of an administrative offense in accordance with the procedure established by law,
Part 2 of Art. 38 of the Code of Administrative Offenses provides that, if cases of administrative offenses in accordance with this Code or other laws are under the jurisdiction of a court (judge), a fine may be imposed no later than three mont
The Law of Ukraine "On Principles of Preventing and Combating Corruption" also prohibits information on the amounts and types of remuneration of the specified persons to be classified as information with limited access. The La
Guilt of PERSON_2 in committing the offense provided for in Part 7 of Art. 212-3 of the Criminal Procedure Code, was fully confirmed in the written evidence collected and examined at the court hearing
The date of receipt of a document sent by post to the institution is its receipt by the responsible person in the branch or authorized person of the post office
In accordance with the provisions of Part 5 of Art. 212-3 of the Criminal Procedure Code, unlawful refusal to provide information, untimely or incomplete provision of information, provision of untrue information in response to a lawyer's
A lawyer's request may not be answered only in relation to information from
Taking into account the factual circumstances of the case, the court qualifies the actions of PERSON_1 under Part 5 of Art. 212-3 of the Code of Criminal Procedure, as an unlawful refusal to provide information at a lawyer's request
The judge of Podilsky District Court of Kyiv Kazmyrenko L.V. considered the case received from the Kyiv Region Bar Council of the National Bar Association of Ukraine regarding the administrative liability of Acting director of KP "Kyivre