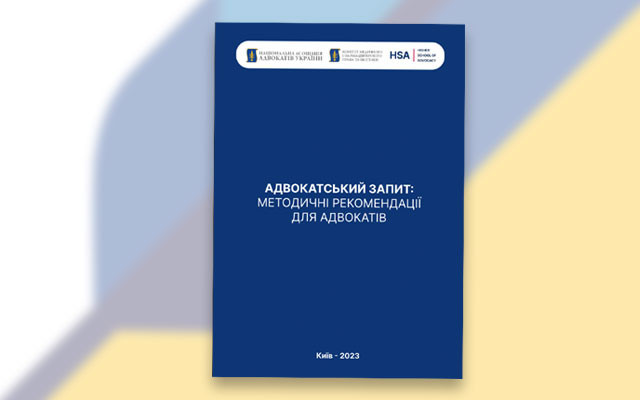 A lawyer's request is an important tool of advocacy, skillful handling of which is a guarantee of quality legal assistance. What should be taken into account when writing a lawyer's request and forming attachments to it?
The National Association of Lawyers of Ukraine presented thematic methodological recommendations for lawyers.
The authors of the publication were Doctor of Laws, Professor, Chairman of the NAAU Committee on Medical and Pharmaceutical Law and Bioethics, Head of the Center for Medical Law of the Higher Academy of Sciences, Iryna Senyuta, and Doctor of Laws, Associate Professor, Deputy Chairman of the mentioned committee Khrystyna Tereshko.
In the recommendations, attention is paid to the requirements for the content of attorney requests, the preparation of attachments (certificates of the right to engage in advocacy, warrants or mandates of bodies (institutions) authorized by law to provide free legal assistance). Aspects of obtaining confidential and public information are considered separately. The publication is accompanied by practical examples that will help to optimize the work of writing queries.
In addition, for the convenience of readers, appendices containing the texts of RAU decisions, as well as QR codes to RAU decisions, court decisions, and decisions of qualification and disciplinary bodies have been created.
"On the one hand, it should be taken into account that a lawyer's request that does not meet the requirements of the relevant law may result in the lawyer being subject to disciplinary liability. On the other hand, colleagues should be sure of the effectiveness of the application of this legal instrument and, in case of violation of rights, receive effective protection, – says I. Senyuta. – Therefore, we believe that this legal guide will be useful to our colleagues and will contribute to the observance of human rights."
Methodological recommendations can also be useful for a wide range of professional communities, legal entities under public and private law.