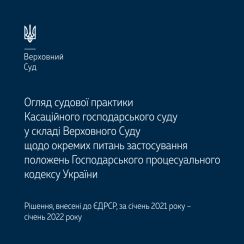 We bring to your attention a review of the judicial practice of the Commercial Court of Cassation as part of the Supreme Court regarding certain issues of application of the provisions of the Code of Criminal Procedure of Ukraine arising during the consideration of cases for the period from January 2021 to January 2022 – https://bit.ly/3UEnI4S .
The review is aimed at ensuring the stability and unity of judicial practice, in particular in matters related to:
conditions of admissibility of cassation appeals in the context of grounds of cassation appeal;
application of the "probability of evidence" standard of proof introduced into the economic process instead of "sufficiency of evidence";
rules for certifying copies of documents submitted to the court by a party to the case;
correction of typos and arithmetical errors made in the decision, resolution, resolution;
conditions and features of reimbursement of legal expenses, including expenses for professional legal assistance;
procedural actions of the court in case of deficiencies regarding the authority of the person who signed the statement of claim / statement / complaint;
evaluation of evidence when deciding on the availability of powers of a person who applies on behalf of a foreign legal entity in the manner of self-representation;
the possibility of repeated appellate review of a court decision, the legality of which was already the subject of an appellate review carried out in accordance with the procedure defined by the Code of Criminal Procedure of Ukraine in the version valid until December 15, 2017.
The information presented in the overview will be useful to judges, lawyers, lawyers, scientists, as well as to everyone who wants to be aware of the practice of applying the rules of procedural law of the Supreme Administrative Court of Ukraine.