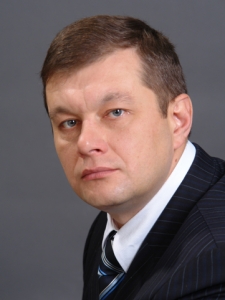 Born on November 9, 1969. in the village of Klavdieve, Borodyansky district, Kyiv region.
He graduated from high school in 1987 and in the same year began working in the Zhovtnev (now Solomyanskyi) District Court and the Department of Justice in the city of Kyiv.
From 1987 to 1989, he served in the armed forces.
After the army until 1991 worked in the Leninskyi (now Pecherskyi) district court of Kyiv.
In 1991, he entered the Faculty of Law of Kyiv National University named after T.G. Shevchenko, who graduated in 1996 with honors.
Simultaneously with his studies at the law faculty of the university, he also studied at the Interregional Institute of Advanced Training at the Kharkiv State Polytechnic University, majoring in "patent expert-marketer", which he also graduated with honors in 1996.
After graduation, from 1996 to 2007, he worked as a leading legal consultant at the Juris law firm.
In 1998 after successfully passing the exams, he received a certificate to practice law. In the same year, he started practicing law, which he continues to this day.
Since March 2007 worked as a legal consultant of the patent law firm Pakharenko and Partners.
In February 2010, he founded the law firm "Chernobai and Partners" and since then has held the position of Managing Partner in it.
The sphere of professional interests includes issues of legal protection of intellectual property, legal regulation of relations in the energy sector and use of natural resources, corporate relations and civil and business law in general, as well as issues of justice.
Has a number of scientific publications devoted to the problems of legal protection of intellectual property.
Participated in the development of some legislative acts.
Actively participates in the work of such professional organizations as the Association of Lawyers of Ukraine, the Association of Lawyers of Ukraine and the Union of Lawyers of Ukraine.
He is a member of the Board of the Association of Lawyers of Ukraine.
Co-founder and member of the coordination board of the Association of Information Defenders "AZIS"
Successfully completed the course "Basic skills of a mediator" at the Ukrainian Mediation Center.
Awarded with a certificate of the Union of Lawyers of Ukraine.