For your attention – a review of the current judicial practice of the Criminal Court of Cassation as part of the Supreme Court (decisions submitted to the USSR for November 2022) – https://bit.ly/3ic4KEV .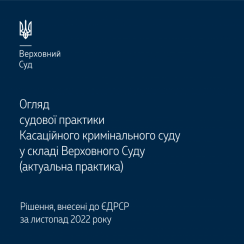 The review contains the most important legal positions and conclusions from criminal and criminal procedural law, which will be important for the formation of the unity of judicial practice.
In particular, in the field of criminal law, it was established that:
– expungement of a criminal record on the basis of clause 2-1 part 1 of Article 89 of the Criminal Code of Ukraine does not release the court from the obligation to apply the provisions of Part 4 of Art. 70 of this Code and include in the term of punishment, finally assigned for the totality of criminal misdemeanors, the punishment served in full according to the previous sentence;
– the act of acceptance and transfer of the goods, which confirms the transfer of ownership of the goods from the seller to the buyer, and the electronic log of the passenger checkpoint of the automated customs clearance system "Inspector" should be included among the official documents as subjects of criminal offenses;
– an application for cash assistance to internally displaced persons, which is certified by a person on his own behalf and does not cause legal consequences, is not considered an official document.
In the field of criminal procedural law, among other things, the following conclusions were made:
– adoption by the court of a decision to conduct remote court proceedings, in which the accused is outside the court premises, who has submitted a request for direct participation in the court proceedings, except for the cases of conducting remote court proceedings under martial law, in accordance with the provisions of Art. 412 of the Criminal Code of Ukraine is a significant violation of the requirements of the criminal procedural law;
– the period from the day of the adoption of the resolution on the suspension of criminal proceedings to the adoption of the resolution on the resumption of criminal proceedings, as well as the period of familiarization with the materials of the pre-trial investigation by the parties to the criminal proceedings in the manner provided for in Art. 290 of the Criminal Procedure Code of Ukraine, are not included in the terms stipulated by this article.
Throughout November 2022, the CCS of the Supreme Court also expressed other, no less relevant legal positions, which are highlighted in the review of judicial practice.