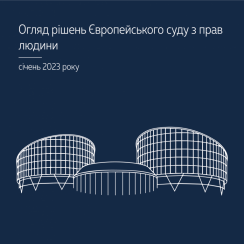 The Supreme Court brings to your attention an overview of the practice of the European Court of Human Rights based on decisions made during January 2023 – https://bit.ly/3yihqyE .
The case of Cotora v. Romania involved disciplinary proceedings against a judge – the head of the Court of Appeal – due to the fact that she allegedly influenced the process of selection and appointment of specific candidates for the positions of her deputies. In this case, the ECtHR recognized the absence of a violation of paragraph 1 of Article 6 of the Convention on the Protection of Human Rights and Fundamental Freedoms (the right to a fair trial), because during both the disciplinary proceedings and its subsequent review by the courts, the relevant guarantees of this article were respected.
The case OVCHARENKO AND KOLOS v. Ukraine referred to the dismissal of judges of the Constitutional Court of Ukraine due to their participation in the adoption of the Decision of the Central Committee of Ukraine in 2010, which was a consequence of a significant increase in the powers of the then President of Ukraine V. Yanukovych. The ECtHR found a violation of Article 8 of the Convention (the right to respect for private and family life) due to the uncertainty of the extent of which actions of the judge are covered by the violation of the oath.
The case KOROTYUK v. Ukraine referred to an improper investigation by the authorities into the facts of the distribution of the applicant's book on the Internet without her consent, which, as a result, was a violation of her intellectual property right. In this case, the ECtHR agreed with the applicant's arguments about the authorities' failure to fulfill positive obligations in the field of copyright protection and found a violation of Article 1 of the First Protocol to the Convention (property protection).
The case of Pagerie v. France concerned the legality of the applicant's imposition of a curfew and the obligation to report to the police following the wave of terrorist attacks in France in November 2015. The ECtHR took into account the special context of this case – the fight against terrorism and the obligation to protect society and individual rights. The ECtHR did not see a violation of Article 2 of Protocol No. 4 to the Convention (freedom of movement), because, introducing such restrictions, the authorities were guided by the urgent need to prevent terrorism, the applicant's behavior and, in addition, he had certain procedural guarantees and the right to periodically review the need for a curfew.
We remind you that you can familiarize yourself with all reviews of the practice of the ECtHR prepared by the Supreme Court at the link: https://bit.ly/3ZsWocl .